Cretan & Mediterranean Diet, The secret of longevity
Pour a shot of raki, then close your eyes and imagine a large olive tree and vines wrapped around a wooden pergola over a stone-laid terrace with a view stretching down to the coast as you savor the taste of Crete.
The Mediterranean diet is currently considered by Nutritionists as a modus vivende that endows people with longevity and sound health, with Crete at its epicentre, as supported by research conducted on an international scale. Ιt is not only the unique in taste and quality Cretan products but also their combination, which gives an enormous nutritional value and can be found in every Cretan dish.
The history of Cretan diet is very old; its roots lie deep in the Neolithic Age. Since then, the conquerors came and went from Crete, but the Cretan spirit, religion, language and cuisine remained unchanged over the centuries.
For Cretans, the secret of longevity is very simple. They eat anything that their rich soil produces.
They consume a lot of fruit, vegetables, greens, fresh produce, legumes, cheese and bread. Cretans use herbs to add flavour to their meals; they make sweets/cakes with natural sweeteners, honey and grape-juice syrup; while the excellent Cretan wine is an indispensable accompaniment to their meals. Cretans consume meat only a few times a year. The ingenuity of Cretans exploited fully the entire spectrum of ingredient combinations, which resulted in volumes of recipes for meals and deserts.
The natural environment of Crete favours the development "earth friendly" methods of growing crops, particularly with regard to basic agricultural products, i.e. those that have adjusted well to the climate of Crete.


Stuffed Courgette Flowers
Kolokythanthí

INGREDIENTS
20 courgette flowers
150 gr white rice (glace)
2 ssp dill, finely chopped
1 ssp mint, finely chopped
30 gr onion, grated
30 gr carrot, grated
30 gr courgette, grated
30 gr tomato, grated
200 gr potatoes, sliced
2 pinches salt
2 pinches pepper
200 ml olive oil
100 ml fresh lemon juice

METHOD
Place the courgette flowers in cold water to open and make the preparation easier. In a large mixing bowl place the rice, all the chopped and grated ingredients and half of the olive oil. Mix well. With a small spoon, take small amounts of the stuffing and fill the courgette flowers. Fold over the ends to seal the stuffing inside. Place on the bottom of a saucepan with the openings towards the bottom. Pour in enough water to cover. Add 1 pinch of salt, 1 pinch pepper, 1/2 of the lemon juice. Cover and simmer gently for approx. 30 minutes until the rice has absorbed all the liquid.

SECRET OF SUCCESS
Place the potato slices at the bottom of the pan so that the stuffed courgette flowers do not stick or split open during cooking. Place a plate (upside down) on top of the stuffed courgette flowers before cooking so that the parcels cannot rise or move. Serves 4
Crowns of mint were worn at religious ceremonies and sprigs used to scent bath water. Athletes used crushed mint leaves to relieve soreness after games. Mint eases indigestion and helps relieve nausea.

---
Sfakian Pies
Sfakianés pítes

INGREDIENTS
210 gr flour
2 tbs olive oil
pinch salt
120 ml tepid water
450 gr mizithra (or ricotta) soft cheese
honey or quince preserve

METHOD
Make a soft dough with the flour, olive oil, salt and water. Let it rest for 30 min. If the cheese contains liquid, drain it on paper towels placed on several layers of newspaper for an hour and squeeze out any remaining liquid. Divide the cheese into 10 pieces and roll each into a ball in the palm of the hand. Divide the dough into 10 portions and, with your hands again, flatten each one into a round flat "pancake" about the size of a salad plate. Cup the pancake in one hand, put one cheese ball in the center of it, close the sides over it and start working the cheese towards the edges, until you have a flat pancake once again. Fry in a crepe or non-stick frying pan for about 2 min on each side.

SERVING SUGGESTION
Serve with thyme honey or quince preserve: goes well chilled raki.

TIP
Sprinkle pine nuts over the honey or quince preserve. Makes 10 pies
This gourmet treat has rather humble origins as a portable meal for Sfakian goatherders.

---
Lamb with yogurt
Arnáki me yiaúrti

INGREDIENTS
1 kg leg of lamb (boned)
100 gr olive oil
100 gr onions
1/2 tsp oregano
1/2 tsp thyme
1-2 cloves garlic
salt & pepper
800 gr live Greek yogurt
3 eggs

METHOD
Cut the lamb into 50 gr pieces and place in a roasting dish. Add the olive oil, thyme, oregano, finely chopped garlic and chopped onion - mix well. Place in fridge and leave to marinate for 2 hours. Remove from fridge and place in oven (160 C) for 35-40 min. When the meat is cooked, remove from oven and allow to cool whilst preparing the yogurt. In a bowl, mix together the yogurt, salt, pepper and eggs until well blended. Place the meat in a suitably sized ovenproof dish (ceramic is traditional in Crete) and spread the yogurt mixture over the top. Bake in preheated oven (1080 C) for approx. 40 min. Serves 4
Shearings traditionally open with the blessing of the flock by the priest and end with a communal feast


---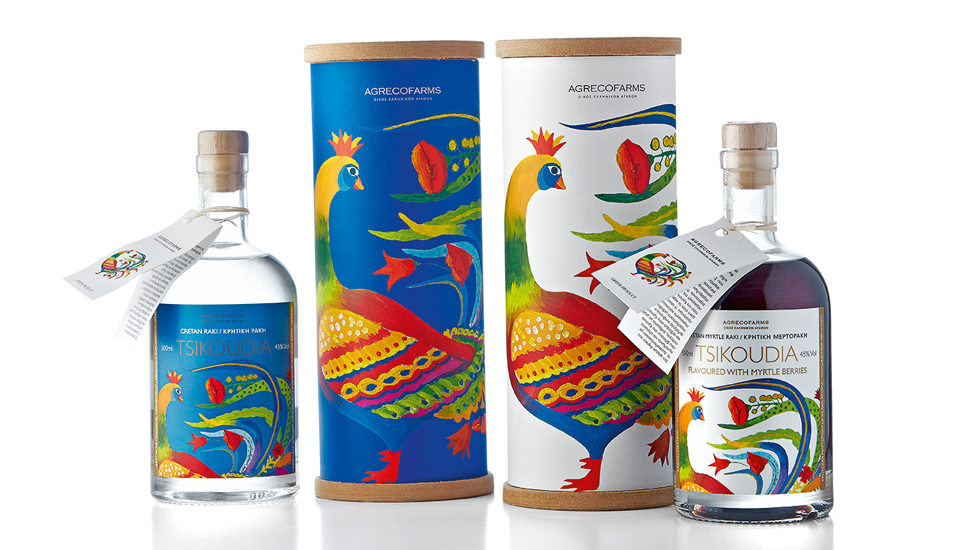 Eau de Grece
Our Agreco farm debuts its organic collection of body care products inspired by mythical nature of Crete & agreco exclusive lines with authentic gourmet food products Available at Grecotel Resorts!
VIEW MORE
---
"Eat feta and tomatoes
& breakfast of nuts
& fruits & fresh bread
& honey & yogurt
on a long table under a vine terrace looking towards Homer's Cretan Sea"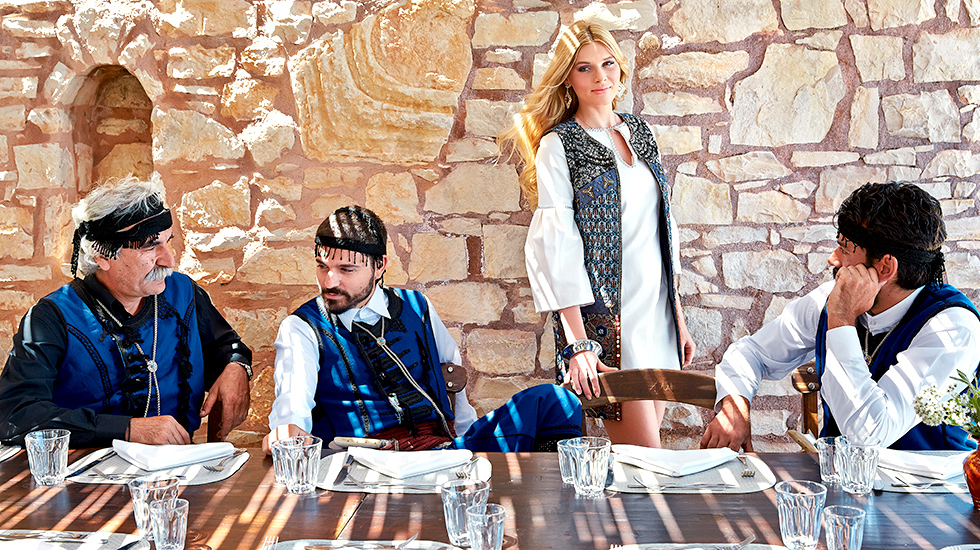 Kafeneio
The Agreco Farm is open daily from 10:00-16:00 & 18:30-22:00. Enjoy the beautiful view, relax in natural surroundings and drink Greek coffee, raki, wine, beer and local soft drinks.
---
CONVERSION CHARTS
The following abbreviations have been used in the recipes:
• tsp - teaspoon - 5 gr
• ssp - soupspoon - 10 gr
• tbs - tablespoon - 15 gr
• cup - liquid e.g. honey - 140 gr
• cup - rice / sugar - 200 gr
• cup - butter - 220 gr
• cup - cheese (grated) - 120 gr
• cup - nuts (chopped) - 150 gr
---
OVEN TEMPERATURES
Gas Degrees (F) Degrees (C)
1 275 140
2 300 150
3 325 170
4 350 180
5 375 190
6 400 200
7 425 220
8 450 230
9 475 240

---
LIQUIDS
fl. oz / pints ml
• 2 55
• 3 75
• 5 (1/4 pint) 150
• 10 (1/2 pint) 275
• 20 (1 pint) 570
• 25 (11/4 pint) 725
•
13/4 pints 1 litre
---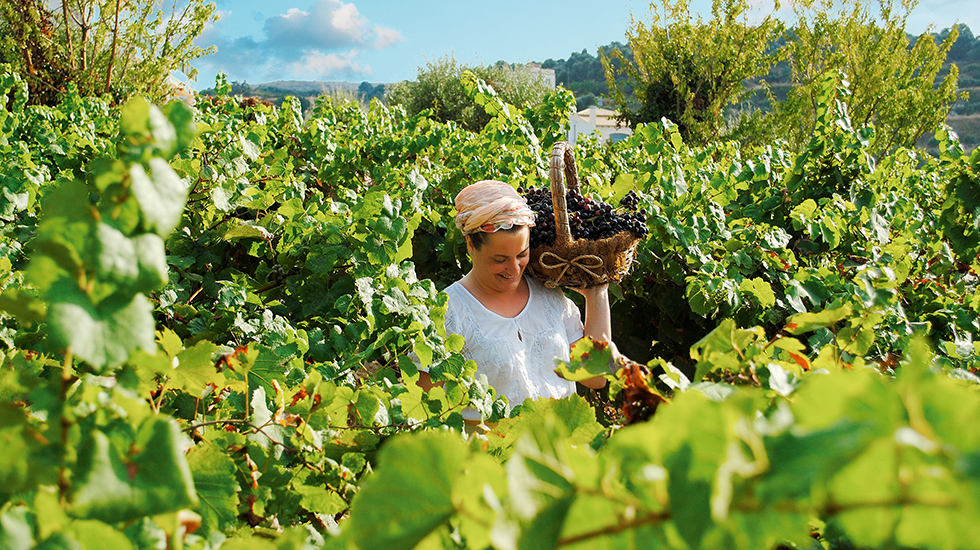 Traditional Farming

Crete is blessed with a climate that intensifies flavors in fruits and vegetables grown on the island. Warm winds from the Sahara and cool, alpine conditions in the mountains nurture a dizzying variety of crops.

VIEW MORE


---