Activities
The love of life...
FARMER FOR THE DAY
Simply nowhere else in Greece can you 'live life' on an organic farm.

"Play Farmer for the Day" at the Agreco Farm and learn just how it feels to make and eat home-made traditional Cretan food.

Get a 'hands-on' experience including:
• Preparing stuffed vegetables.
• Making farmhouse bread and baking it in the wood-burning oven. Try it fresh from the oven, dipped in virgin olive oil.
• Visiting the wine press to taste organic wines and see where grapes are pressed by foot in the autumn.
• The raki still that produces Crete's famous tsikoudia.
• Milk the goats and help shear the sheep! See how local cheese is made and taste the fresh milk.
• Make Cretan cheese pies
• In the Farm square, visit the Chapel of St. Nicholas, watch our artist at work and pop into the Farm Shop to buy Agreco organic products to remind you of your day at the farm.

At the end of the day, relax under the shady pergola with views over the olive groves down to the sea and enjoy a farmhouse lunch including the fruits of your labour.
FARM TOUR
Learn all about the organic Agreco Farm with an evening guided tour followed by a Cretan Feast that varies each season and the dinner in one of the organic award-winning restaurants: "Αgreco Cretan Restaurant" or "Antikristo Cretan BBQ" restaurant.

Included in the tour:
• Vintage olive oil stone press
• Beehives
• Threshing floor
• Wood burning ovens
• Water mill
• Wine and raki distillery
• The Chapel of "St Nicolas Kourtaliotis"
• The Farmyard with local and rare animals
• "Kafenion" – Village store
• Workshops & artist's studio

The Farm Tour starts at 18:30 (50 min. duration)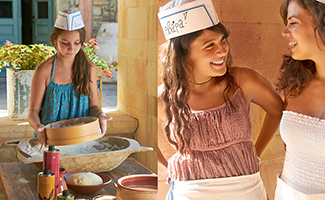 Kids Experience
While adults enjoy the Farm Experience, junior farmers join in fun-filled farm activities including making dough & baking, picking vegetables and preparing dishes for their own healthy Cretan lunch. Agreco Kids Experience is supervised by the children's club staff.
"Farmer for the Day" is arranged upon reservation.
---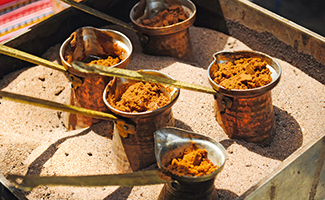 Cretan Kafeneio
Enjoy the beautiful view, relax in natural surroundings and drink Greek coffee, raki, wine, beer and local soft drinks at the Agreco Kafeneio.
The Agreco Kafeneio is open daily from 11:00–20:00. See programme for details
---